First RSPS toplist since 2007
Unlike others, we fight vote bots
Blocking 100k+ vote bots

/mo
Revival | OSRS | Unique | Duo-Ironman |
Revival | Most unique OSRS server! Custom Invention skill | Raid Bosses | Duo-Ironman Mode | Boner | Hunter Skilling Boss | Skillcape Perks | 20+ Skilling Pets | Constant Events | Extremely Easy Money Methods | Godwars 2 and Raids 2 COMING SOON!
Revival is a server brought to you by YouTubers Jamian & PvM Bigboy.. its called revival because the two of us have been out
of the RSPS scene for a while now and because of my (Jamian) checkered past with servers this is my final chance at
redemption.

The server is based off one of my past projects and because of that a lot of the unique content we've done before has been
removed... Revival is all about that new new.
Here is some of the unique content of the server!
First, we have added a new gamemode that no other server has!
Duo-Ironman is a very popular and fun mode that you can partner up with one person and be ironmen together.

This gamemode allows you to trade only with your partner.

Start your Duo-Ironman Mode adventure today and achieve great things!
--- Basic Guide on how to start your Duo-Ironman Below ---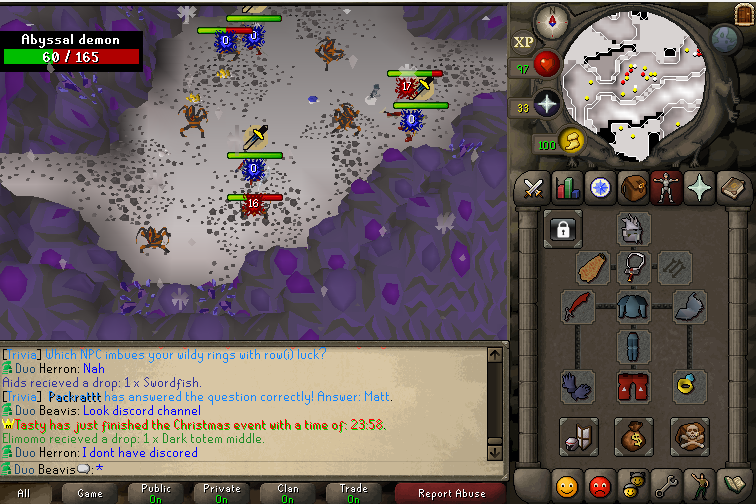 We have the four Raid bosses(Tekton, Vespula, Muttadile, and Vasa Nistrio)
Vasa Nistrio - which drops the Twisted bow and Twisted Buckler!
Vespula - which drops the Ancestral Mage Gear and Kodai Wand!
Tekton - which drops Obsidian Melee gear (best-in-slot) and Elder Maul!
Muttadile - which drops Dragon Claws, Sword, Harpoon, Dinhs Bulwark, and Dragon Hunter Crossbow!
Theive's Paradise! A Custom Minigame where you can earn Chests obtained only by donating!
The rewards in the shop can also be obtained from the minigame itself aswell as getting the points!
We have the Ancient Wyverns which drops the NEW Wyvern Shield!
Superior Monsters - at the moment we have 7 superior slayer monsters which drop Imbued Heart, Bonecrusher, Eternal Ring, and Medium Cashbag!
We have a custom Inferno Minigame which includes several waves of Jads!
Infernal Cape
Infernal Max Cape
With all the custom content in-game, we have Skilling pets for almost every skill!
The skilling outfits that we have give bonus Experience when worn while doing the skill!
Our Reward Stores(Trivia, Vote, Achievment, Slayer, etc) which have 5$ bonds(NOT P2W). We maintain a player count of 80 or above at all time!
With our pretty decent sized player count we have a custom home with easy to find shops!
Recent Updates as of 1/13/2018!
We have several new updates that came out today, the 13th!
Including the Gargoyle Boss (Dusk and Dawn)!
The Gargoyle Boss drops the Black Tourmaline Core which is used to make Guardian Boots.
Also they have the very rare pet drop, Noon!
Revival's custom Hunter skilling boss, Tuz!
Collect minerals from Tuz and spend them in the reward shop!
Our most current event "1 Year Player Appreciation Event" for our 1 Year Anniversary of the server!
We have skilling pets for every single skill (except combat)
For all the pets check out this video below!
Video on all of our Skillcape Perks coming soon!

Website = http://revivalps.com/#
Highscores = http://revivalps.com/hiscores/