LetsPk.org - Real OSRS SPAWN PVP Server
200+ players! Very active instant PVP Server with bossing and skilling! Partially spawn and mainly eco- this server is exactly what youre looking for whatever type of player you are. Join and instantly start PKing or bossing! Every OSRS BOSS!i
Click to play letspk
Vote for letspk

Welcome to LetsPK.org !

LetsPK.org is a real old-school RuneScape private server using the current oldschool client with our own developed private server to give you the ultimate OSRS mashup experience. We are primarily focused on refining the intricate logistics of the RuneScape combat system to perfect emulation; over 100 hours have been devoted by our development team to combat alone. The primary currency for the majority of our players is Blood Money- this can be earned through PvP or through Krystilia's wilderness slayer assignments. We also offer a host of PVM and economy services for instance; all skills must be trained- you can set your combat stats immediately upon login but all the other skills must be trained, and we have programmed them to be exactly like OSRS- this includes full player owned housing! There is an entire competitive skilling aspect with rewards every 30 minutes spent skilling amongst other small mechanical improvements to the skilling. For those who like bossing we have matched our PVM to exactly like OSRS. We offer FULL Raids- you will be able to explore the chambers of Xeric in a party against the Great Olm. We also havve Skotizo, Abyssal Sire, Zulrah, Cerberus, and many others including God Wars, Wilderness bosses etc.




We have customised the Edgeville landscape to cater to your needs, we have replaced the weird coffin room south of the bank with Resource Area from the wilderness to create a skilling area, every skill can be trained from the home area, we have added a custom rooftop agility course which runs through the different buildings in Edgeville. We also have our own custom PVP Room which has all the blood money shops. Upon login you will be thrown into a quick 30 second (if that) tutorial which covers most of the important stuff you'll need to know.




You can access a bunch of pre-made laodouts and teleportation shortcuts through the Portal tab (formerly the Quest tab on OSRS). You can also prepare and save your own custom presets which can be quickly applied to your character. To use this simply click the custom loadouts button 
 and it will prompt an interface which will allow you to configure your loadout.




Our Slayer skill is entirely up-to-date with current OSRS (a standard we will always continue to maintain), all slayer dungeons with an improved rewards system. Several pets can also be obtained through training this skill. As aforementioned, the new Slayer master (Krystilia) will assign wilderness-only tasks which will award Blood Money.




We are also the only real OSRS server to offer FULL chambers of Xeric and Player Owned Houses amongst many other cool bits of engaging content.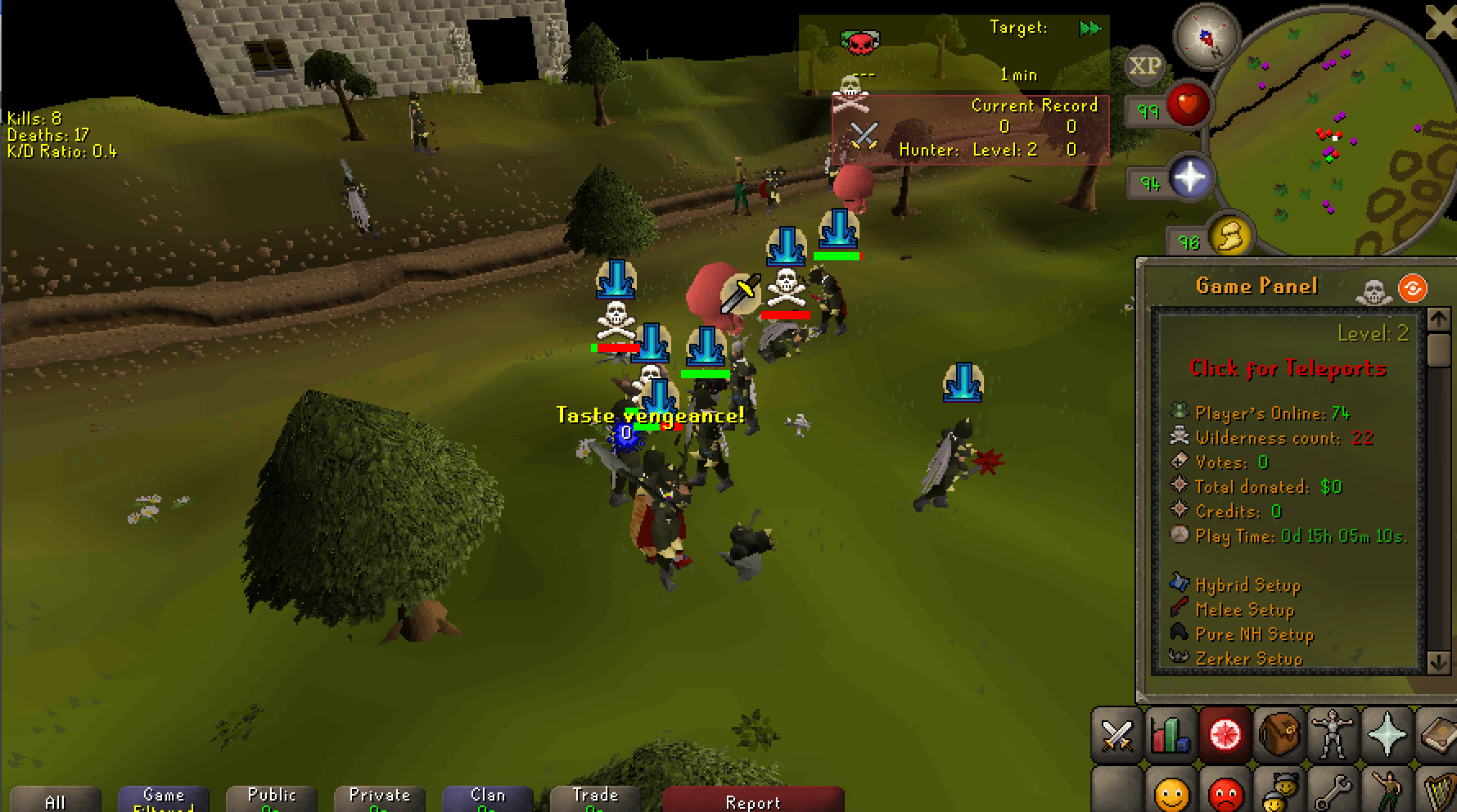 Rating by voters:
4.4
. This rating is based on
12
ratings.